Roundup Thumbnail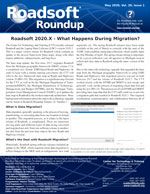 Roundup Summary
This issue of the Roadsoft Roundup provides an overview of the Roadsoft migration process. Roadsoft 2020.3 included the first Roadsoft data migration since 2017. This migration is significant as it converts Roadsoft from the previous Michigan Geographic framework to the new ESRI Roads & Highways base map.
This issue also provieds a quick summary of the 2020 Roadsoft User Conference of the United States (RUCUS).
In addition, this issue includes a Programmer Spotlight article on Senior Software Engineer Mary Crane.
Finally, this issue introduces a new regular feature highlighting Roadsoft Tips & Tricks.