Crash Data for 2022 is now available for download in Roadsoft. Users must be running version 2023.3 or newer and will need to have migrated their framework basemap to v23.
To download and import 2022 Crash Data:
From the File menu, select Import, then select 'Import Crash Data...'
Click the 'Download from Cloud' button on the 'Roadsoft Crash Data Required' form,
Click the 'I Accept' button on the 'Crash Data Restricted Use Warning' form
On the 'Import Crash Data' form, you should see the 2022 Crash Year as available and checked to import. Click the 'Import Selected' button.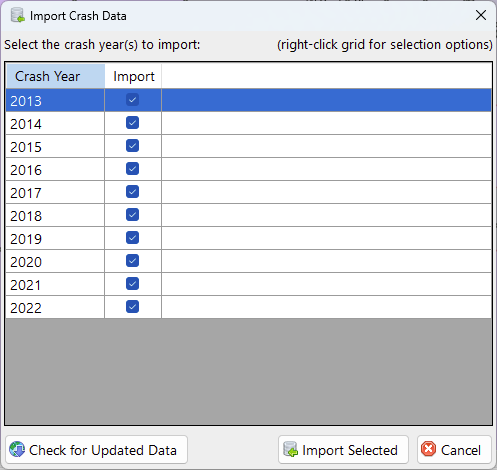 If you have any questions or issues, feel free to contact Roadsoft Tech Support at roadsoft@mtu.edu or (906) 487-2102.